The Shocking Stats on Slip and Fall Accidents in the USA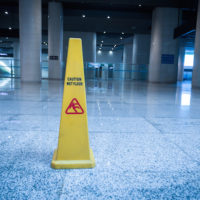 No one likes an unexpected visit to the hospital. It is frightening to find yourself on the way to the emergency room when just a few moments ago you were going about your day as usual. Surprisingly, slip and fall accidents account for over 1 million emergency room visits every year. Slips and falls can come about in a wide variety of scenarios, and the risk for injury is high.
Slip and Fall Accidents Have Serious Consequences
To be sure, most falls do not cause serious injury. In the best case scenario, you break your fall smoothly and can carry on without further complications. Unfortunately, according to the Centers for Disease Control and Prevention, falls sometimes can have serious and long-lasting consequences, especially for the elderly. Some of the statistics about slip and fall accidents are as follows:
One out of five falls leads to broken bones or head injuries, and head injuries can mean brain damage. Head injuries are particularly dangerous for patients who are taking certain medications.
More than 95% of hip fractures are caused by falling. Older people are at high risk for this injury: Every year, 250,000 elders are hospitalized for hip fractures.
The direct, total annual medical cost for slips and falls in the U.S. is approximately $34 billion.
Over 700,000 people in the U.S. are hospitalized (i.e. for longer than a visit to the emergency room) for fall-related injuries every single year.
Falls are the leading cause of emergency room visits, standing at 21%.
Falls on slick floors account for 85% of workers' compensation claims in the USA.
How a Slip and Fall Attorney Can Help
Slips and falls may be accidental, but that doesn't mean they aren't preventable. Owners of stores, restaurants, and other enterprises are required to keep premises safe for workers and visitors. This means they must keep accessible areas free of obstacles, uneven flooring, and slick spots. If they fail to do so, they could be responsible for an injury such as a hip fracture or concussion, or others. It's very common for wet floors in bars or broken steps at sporting venues to cause serious injury, as an example.
If you were injured as the result of a slip and fall accident, you should get in touch with an experienced slip and fall attorney as soon as possible. For more than 30 years, Andrew Ritholz has worked with clients like you, and knows how to professionally manage personal injury cases. He'll help you navigate the process of filing a claim, and work hard to help you recover full monetary compensation for injuries sustained in a slip and fall accident. Contact us at the Law Offices of Andrew Ritholz for a free case evaluation. You will pay no fees until you recover a settlement or jury award.