Slip and Fall Accident: What You Need to Know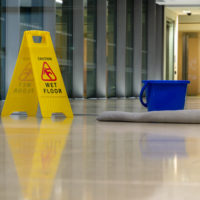 Property owners have a duty to keep their premises free of hazards that may cause visitors to slip and fall and get hurt on their property. Injuries stemming from a slip and fall accident can be serious, and at the Law Offices of Andrew Ritholz our team is prepared to zealously advocate for the compensation you deserve. Call or contact our office today to learn more about your legal options.
What is a Slip and Fall Accident?
Slip and fall accidents are a type of premises liability claim that occur when a property owner or occupier fails to maintain their premises in a safe condition for guests. Slip and fall accidents are commonly caused by negligence, and in order to prove a case the victim must be able to show that the property owner owed them a duty of care as a visitor, that the owner knew or should have known about the hazardous condition, and failed to warn the victim of the dangerous condition that led to the slip and fall accident.
Slip and fall accidents can be caused by all types of hazardous conditions, including:
Spills,

Leaks,

Loose carpeting,

Failure to put up warning signs,

Failure to rope off dangerous areas,

Broken furniture,

Broken or missing stair railings,

Uncovered wires, cables, or cords on the floor, and

Uneven flooring

 
As a type of personal injury claim, victims only have two years from the date of an accident to file a lawsuit for damages. Known as the statute of limitations, if a person fails to file a claim within this time period the court in California can throw out the case and bar the victim from collecting any compensation. 
Injuries Caused by a Slip and Fall
While some people consider slip and falls to be minor incidents, this type of accident can cause serious and devastating injuries to victims. The elderly are particularly susceptible to severe injuries in a slip and fall case, but serious injuries can happen to anyone. Some of the most common injuries cited in slip and fall claims include the following:
Traumatic brain injuries (TBI),

Facial trauma,

Soft tissue injuries (strains and sprains),

Hip fractures,

Broken pelvic bones,

Wrist, arm, and ankle fractures,

Back and spine injuries,

Lacerations, and more.
Compensation for Slip and Fall Claims
Compensation for slip and fall injuries includes economic and noneconomic damages for victims injured on another person's premises. Economic damages cover all out of pocket expenses, such as medical bills, lost wages, property loss, and the loss of future income and benefits. Noneconomic damages provide compensation for a slip and fall victim's pain and suffering, emotional distress, disability, disfigurement, and loss of enjoyment of life.
Talk to Our Office Now
If you or a loved one has been injured in a slip and fall accident in the Pasadena area, you need an experienced personal injury attorney by your side to get the compensation you deserve for your claims. Call the office or contact us today at the Law Offices of Andrew Ritholz to schedule a free consultation of your case now.