How to Handle an ADA Lawsuit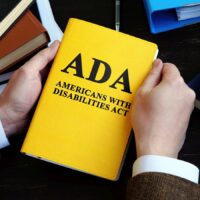 The Americans with Disabilities Act (ADA) is a federal law that protects disabled workers and customers by requiring businesses to comply with certain minimum standards of accessibility. ADA requirements can range from requiring wheelchair ramps and elevators to hyper-specific requirements concerning how far from the toilet the toilet paper roll can be attached in a public restroom. While the aim of the ADA may be noble, it is, unfortunately, ripe for abuse. Many unscrupulous individuals and plaintiffs' attorneys misuse the ADA by filing frivolous lawsuits against businesses, large and small, over minor infractions in order to bully them into quick settlements. If your business is facing an ADA lawsuit, there are a few things you need to know. Read on for some tips on responding to an ADA lawsuit and speak with a seasoned Pasadena business lawyer if you need help with a California business law matter.
Take your time to respond
If you are served with an ADA complaint, especially if you run a small business, you might be inclined to settle as soon as possible. This impulse is exactly why people abuse the ADA and file these "drive-by" lawsuits. Instead, take your time to review the complaint and assess the claims. Contact your insurance company to see if they will provide defense counsel. If not, call your attorney. It is important to take any complaint seriously, however. Failing to respond to the complaint can lead to a default judgment and statutory penalties.
Contact your landlord
If you rent your office space, your landlord should contribute to your defense. Reach out to them about the complaint as soon as possible to ensure that they contribute to your defense costs.
Collect evidence
Take photographs of your entire building and all areas of your property, especially the areas that are the subject of the complaint. The plaintiff has undoubtedly done so. This will help you document any changes and make sure that their evidence has not been altered in any way. Photographing the entire property also may help you prove that the plaintiff had suitable alternatives to the area about which they complained (e.g., a ramp on the side of the building instead of the front staircase).
Talk to your lawyer about your options
There are a few approaches you may want to take in handling an ADA complaint. You may wish to make some immediate modifications to fix the noted issue. You may even be able to get a lawsuit dismissed if you can show that a correction has been made, and some plaintiffs may dismiss their case if the issues are fixed. There may be good legal reasons to wait to make any adjustments, especially if you disagree that there is any compliance issue to begin with.
Review your entire property before entering a settlement
If you enter a settlement and agree to fix only one small issue or area, but there are other compliance issues on your property, the same or a different plaintiff might just file another lawsuit next week. It may be worthwhile to hire an expert to review your entire property for ADA compliance so that you can take care of any issues all at once, and make sure that some serial plaintiff cannot continue to badger you with other claims.
Reach Out to Pasadena Business Lawyer Andrew Ritholz
If you are starting a small business in California or are facing legal issues with your existing Los Angeles business, consult with an attorney who understands your rights and can protect your interests with focus and expertise. Contact Pasadena business lawyer Andrew Ritholz at 626-844-7102.